Behind the Curtain: Exploring the Van Wezel from the Art to the Stage 10/16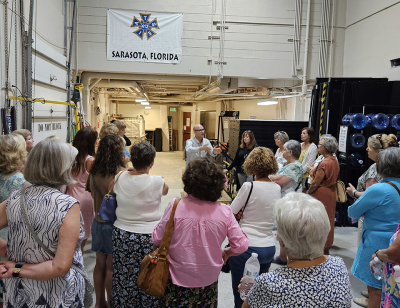 You've seen the artworks displayed on the walls of the Van Wezel Performing Arts Hall on the way to your seats to enjoy a great show. Maybe you even stopped to admire a painting.
You may not have known these paintings and sculptures were created by noted Florida artists and are on loan from Arts Advocates. A docent will take you on a tour of the paintings and sculptures including those by Robert Chase, William Hartman, Eugene White, Ben Stahl, Julio de Diego, Thornton Utz, Frank Colson, and Dean Mitchell, to name just a few.
Then you will step onto the stage where a Van Wezel guide will give you a peek behind the curtain to learn about the many hands that create the Van Wezel's shows. You will see the ropes and pulleys that "fly" the scenery on and off the stage, the movable orchestra pit, dressing room, and loading dock where traveling shows back up their 18-wheelers to move their shows onto the stage. All the while you'll be dazzled by stories and anecdotes about the colorful world of show business!
Tours begin in the main lobby and cost $15 per person. Tickets can be purchased at the Van Wezel box office or by calling (941) 263-6799. Private group tours can be arranged by calling (941) 955-7676. Proceeds benefit Arts Advocates and the Van Wezel's education/outreach programs.