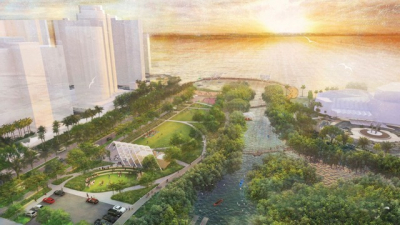 This program will be held at Bird Key Yacht Club. Reservations are due January 14.
Lunch Choice
Regular : California salad (mixed greens, raspberries, candied walnuts, granny smith apples, blue cheese crumbles) with salmon, chocolate lave cake for dessert
Vegetarian : Eggplant parmesan, chocolate lave cake for dessert
We are so fortunate to witness the birth of what is sure to be a defining feature of Sarasota for generations to come - a legacy that will improve air and water quality, foster the physical and mental health of the community, and serve as a social gathering place and center for arts and cultural programs.
The Bay Park, while long aborning, is well underway now. Visitors can enjoy the restored Fountain Garden and the new half-mile Mangrove Bayou Walkway. Additional features of Phase 1 include the Living Shoreline, the Sunset Pedestrian Boardwalk, and The Lawns. Community programs such as free concerts, yoga classes, and eco-walks will soon be frequent events.
The Bay Park Conservancy's Chief Implementation Officer William Waddill and Chief Experience Officer Jeannie Perales will be our guest speakers for this luncheon.
Bill Waddill is a certified planner and landscape architect with over 32 years' experience managing the design, public engagement, and implementation process for both public and private projects, including the Bradenton Riverwalk, Siesta Beach Park, Perry Harvey Park in Tampa, Babcock Ranch Town Center in Ft. Myers, and Baker Park in Naples.
For more than 20 years, Jeannie Perales has been designing and implementing visitor-centric engagement at museums and gardens, including The Denver Art Museum, the Ringling Museum, and Selby Gardens. As chief experience officer, Jeannie is responsible for developing site and operating strategies that deliver a positive, memorable experience for park visitors.
Don't miss this opportunity to learn about The Bay from the team that is creating it.
We have updated our Covid-19 health and safety policy to conform to government regulations. Masks are required at events. We strongly request that you be vaccinated if you attend an event. This is voluntary and on the honor system.