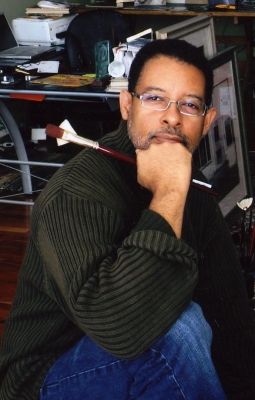 Open to the public
Betty J. Johnson North Sarasota Library, 2801 Newtown Road, Sarasota
"Mr. Mitchell is a virtual modern-day Vermeer of ordinary black people."
Michael Kimmelman - The New York Times
Artist Dean Mitchell will give a brief talk and answer audience questions. In addition, two recent Mitchell acquisitions by Arts Advocates will be premiered.
Dean Mitchell was born in Pittsburg and raised by his grandmother in Quincy, Florida. In addition to watercolors, he is well accomplished in egg temperas, oils, and pastels. During his four-decade long career, Dean has become well known for his figurative works, landscapes, and still lifes.
Education: Columbus College of Art & Design (BFA, MFA)
Museums: Autry National Center, Arkansas Art Center, Canton Museum of Art, Nelson-Atkins Museum of Art, Kemper Museum of Contemporary Art, Margaret Harwell Art Museum, Rockwell Museum, Nerman Museum of Contemporary Art, Beach Museum of Art, Phoenix Art Museum, Gadsden Art Center, Whitney Museum of the American West, Mississippi Art Museum, St. Louis Art Museum, Library of Congress and the Quanhua Art Museum in China.
Awards: Over 600 awards including the T.H. Saunders International Artists in watercolor competition in London, England, American Watercolor Society Gold and Silver Medal, National Watercolor Society Masters award, Allied Artist of American Gold Medal in Watercolor and Oil, Donald Teague Memorial Award and the Robert M. Lougheed Memorial Award Prix de West, Premier Platinum Award Buffalo Bill Center of the West , Art for the Parks $50,000 Grand Prize, Loa Ruth Spring Award from the National Watercolor Society, The Award of Excellence Shanghai Zhujiajiao International Watercolour Biennial Exhibition.
Galleries: Astoria Fine Art, Jackson, Wyoming; Cutter & Cutter Fine Art, St. Augustine, Florida; E & S Gallery, Louisville, Kentucky; Hearne Fine Art, Little Rock, Arkansas; J. Williott Gallery, Palm Desert, California; Legacy Gallery, Scottsdale, Arizona; Mac Gryder Gallery, New Orleans, Louisiana; Marie Brooks Gallery, Quincy, Florida.