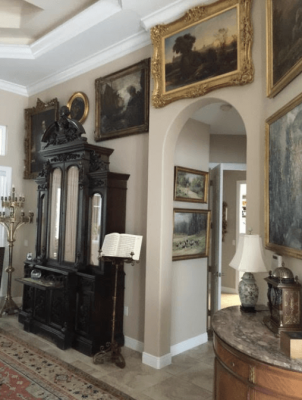 An Afternoon with Jim Craig and Randy Johnson
Wednesday - December 11, 2019
4:30 - 6:00 PM
30 Maximum - Members and Guests
"Fine Arts Consultant" is what Jim Craig's bio reads as his occupation and oh! - what a life he has led! Educated in Paris, at the Juilliard School, at the College-Conservatory of Music/University of Cincinnati and at the University of South Carolina, this fine southern gentleman has had an extensive and distinguished career in the realm of the fine and decorative arts.
He is an accomplished author having written "The Arts and Crafts in North Carolina 1699-1840" and has been actively involved as a Trustee of the Mint Museum in Charlotte, NC, a Board member of the Chamber Opera Theater of New York and a patron of the Metropolitan Opera of New York amongst many other positions.
He and his husband Randy Johnson have amassed an exquisite and diverse collection that fills their stunning Sarasota home. This rich body of works is comprised of traditional and contemporary paintings, pastels, works on paper, sculpture, antique stained glass, antique American and English furniture, silver, crystal and porcelain. Numerous paintings of their vast collection include the works of some of the most successful painters of portrait, genre, landscape and abstraction of the last two centuries.
Please join them in a salon that is not to be missed! Wine and delectable edibles will be served.
Driving directions to their home will be provided a week prior to the event.